4 mars 2013
1
04
/

03
/

mars
/

2013
09:55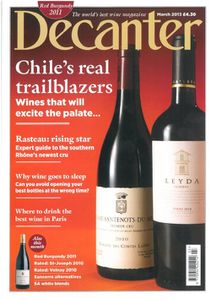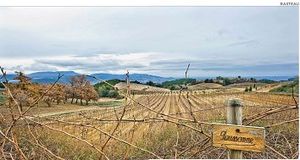 Their recent elevation to top cru status has propelled Rasteau reds into the big league, but are the wines – and the winemakers – up to it?
John Livingstone – Learmonth finds an area where sultry sophistication is joining hearty rusticity in the glace
FOLLOWING ITS 2010 promotion to cru status, Rasteau reds now sit at the top table, alongside neighbours such as Châteauneuf du Pape and Gigondas. Prices will inevitably climb and the question arises : Will the quality justify the higher price? Will consumers feel they are - getting value for money ?
For answers, an inspection of the terroir, the mentality behind the winemaking and the future presentation of the appellation is necessary. For a start, the launch into cru went off at half cock - the decision came through when some estates had already made villages wines - so in circulation are bottles of 2009 Côtes du Rhône Villages Rasteau and bottles + of 2009 Rasteau AC.
The village of Rasteau is perched on a hilltop, in a classic southern French pose, but the vineyard are more hidden and varied than meets the eye on first inspection. The prime theme is ancient clays, which come in different colours of white, yellow, red, blue or grey, but which harbour on theme - water retention. So in dry years, such as 2007 and 2009, Rasteau performs well, the Achilles hell of dry tannins overcome by the moisture held in the subsoils.The result is freshness in the wines.
The vineyards run over 1,350 hectares, of which 1,150ha are Rasteau AC reds. The promotion cut out about 100ha that were deemed lower grade, mainly by being too rich in alluvial matter.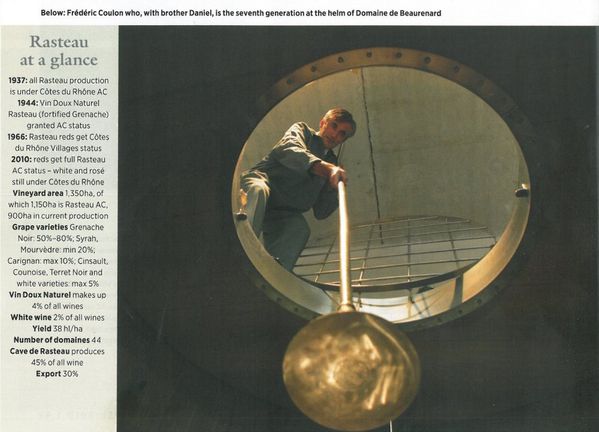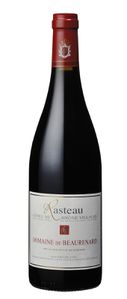 Livingstone-Learmonth's Top 10 Rasteau reds
Domaine de Beaurenard, Rasteau 2009, 17/20, 90/100 :
"This has southern depth on the nose with ripe black cherry
and a broad, powerful palate.
Drink 2013-2020. Alc 14%."