30 juillet 2007
1
30
/

07
/

juillet
/

2007
14:42
Dans le vignoble, les bonnes chaleur du mois de juillet permettent d'envisager des vendanges début septembre, et de belle qualité...
Et voici un article paru sur le Blog de James Molesworth du Wine Spectator, suite à sa visite dans notre région au mois de juin.

Stirring the Lees with James Molesworth

The Good Old Boys

Posted: 05:52 PM ET, June 04, 2007
The rolling hills and picturesque vineyards of Rasteau
Next stop was just up the street (though the construction that spills out from Clos des Papes into the street makes the 2-minute walk a 10-minute drive) at Domaine de Beaurenard, where brothers Daniel and Frédéric Coulon run the show.
There's a full lineup of wines produced here, including a refreshing rosé and bright white Côtes du Rhône bottling, along with some impressive Côtes du Rhône-Villages wines bottled from the emerging terroir around the village of Rasteau. The top wines are two red Châteauneufs—the normal bottling and an old vine cuvée called Boisrenard. Both offer complex aromas, with the domaine's typical mocha, blue fruit and exotic spice profile. The normal cuvée is well-built with a long graphite finish—easily outstanding—while the Boisrenard offers additional fruitcake, mulled spice and blueberry ganache notes, and could be the best version since the estate's exceptional '01.
We also toured the Coulon's vineyards in Rasteau, which are perfectly situated on rolling hills of rocky soils featuring a full southern exposure. The Coulons bought their 25 hectares here in 1980 and at first just bottled the wine as Côtes du Rhône before they eventually felt comfortable enough to bottle it as Côtes du Rhône-Villages. If you want textbook red Rhône profile, with a dash of modern spice, then search these wines out.
On a side note, for those who travel off the beaten path into the various villages that make up the Côtes du Rhône-Villages (Séguret, Cairanne, Rasteau, Roaix, etc)—you should stop in at Le Tourne au Verre for lunch. Located in the center of Cairanne, this wine bar and bistro offers delicious food at ridiculously easy prices (13 euros for a three-course lunch) as well as a great little wine list, loaded not only with Côtes du Rhône-Villages from the local producers (Gramenon, Delubac and more) but an extensive list of Châteauneuf and Languedoc-Roussillon wines as well.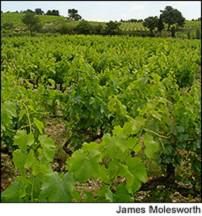 The good old boys—the Coulons, Avrils, Bruniers and Perrins—quietly represent the current leadership in Châteauneuf. They are both respectful competitors and friends and consistent sources of some of the appellation's most cellarable wines.